Main Content
"Le violon de Jos" presents
StageLab
Open innovation
for digital fabrication and media
At the crossroads of people, technos and trad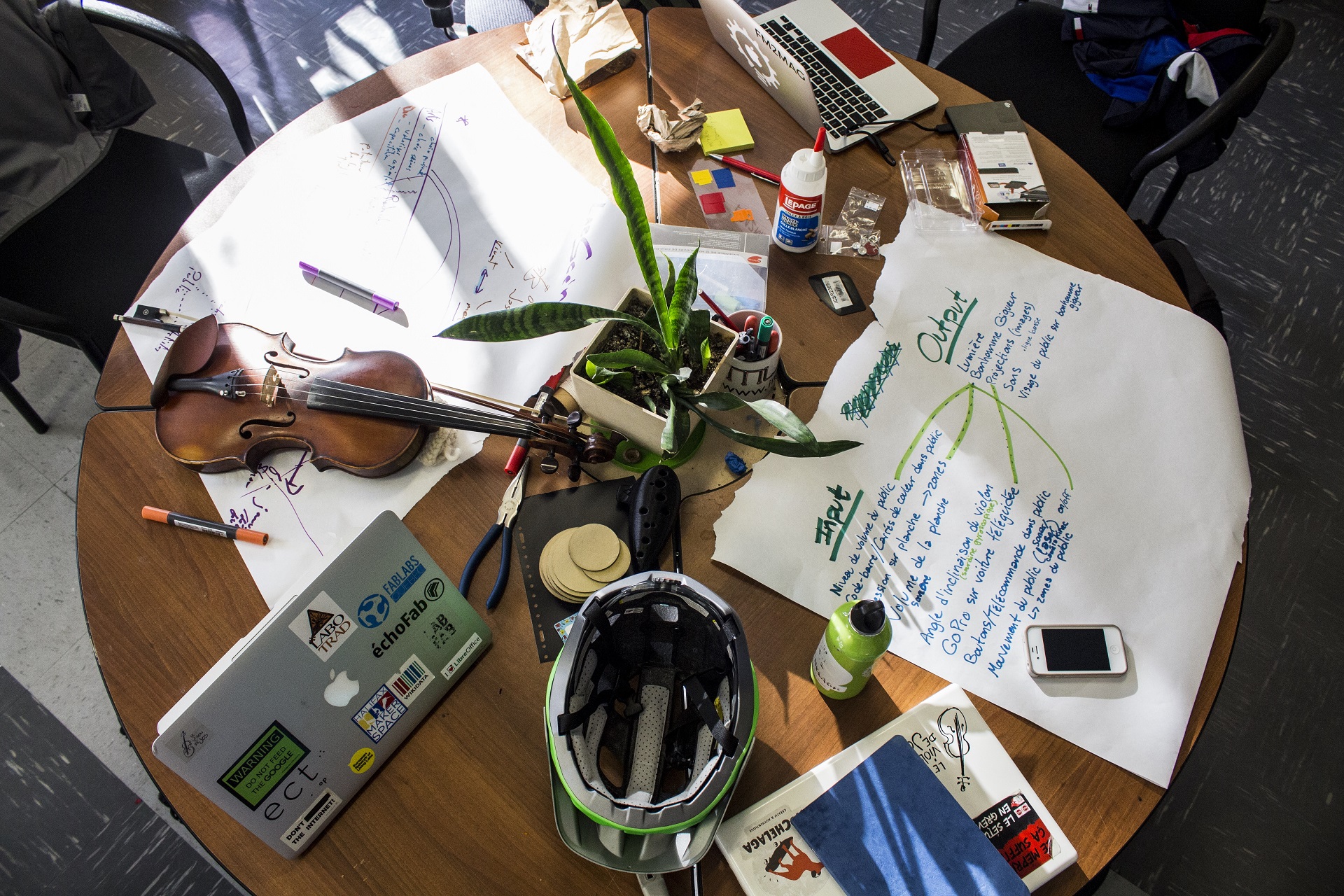 A residency-mediation, in Fab Labs and medialabs spaces, to create a show and its scenography.
Bringing people from different fields together through a cultural experience, in a collective project of discovery and sharing of technologies and traditions.
Technological mediation
With cultural organizations, artists and the public.

Interactive shows
A multimedia scenography that facilitates interaction between performers and the audience.

Unique meshing opportunity
Broadening the horizons through meeting and collaborating with people in the fields of culture, education, technology and traditions.
Creative residency
Enriched with digital technologies and spontaneous collaborations specific to Fab Labs and Medialabs.
Fabs labs and Medialabs
Environments of inventiveness and appropriation of digital manufacturing tools and media technologies.
Scenography kit
Toolbox of devices, instruments, digital plans and software that improves with each StageLab.
Latest news
From the StageLab blog
StageLab: concrete results and projects perspectives
Performed shows
StageLab 0  (read StageLab zero)
Small-scale prototype show to validate the concept, fabricated in 4 Fab Labs and medialabs. It's with the creation of this concert that the Podorythmic Board and the Jig-Being were born.
Shows in production
Isidore Remix
Interactive show simulcasted in 2 connected venues via a scenic telepresence tool. Created with the participation of schools.
(Rimouski and Montmagny, March 19th, 2020)
StageLab FAB16
Creation of the opening and closing shows of the international Fab Labs Conference.
(Montreal, July 2020)
Planned StageLab shows
StageLab in cultural centres?
StageLab in libraries?
StageLab in corporate environments?
A shared creativity base
Technological creations developed and integrated into the scenography of LabScène shows are meant to be re-used, re-constructed and transformed under CC BY SA licence.
Original objects and software
Pressure sensors to create visual ambiances
Softwares for interpreting MIDI signal
Integration to video animation software
Dancing activited by Podorythmic Board.
Skirt with multicolored LED, activated by the danse.
Special mode : one of five dances activated by a donation box.
Proposed creations
Musical interpretation programs to activate the Jig-Being.
Multimedia interactions with the audience of a show.